BRAND slurry mixer, straight power take-off shaft mixer/paddles
Straight paddle: B01, B02, B04 and B05
Paddle series B01
Paddle with a stable, flanged, segmented design made of a Ø 102 mm pipe
Large flange bearing for smooth running and high axial forces
42 CroMo4 high-tempered connection shaft for high torques
Extraction or pressure vane Ø 600 mm (other vanes on request)
High quality vane bearing seal
Galvanised or with acid-resistant powder coating
Lubrication line possible for fixed installation
Lagoon mixer series B02
Series L: up to max. 8 m (lightweight bearing frame)
Series M: up to max. 9 m (medium bearing frame)
Series J: up to max. 13 m (jumbo bearing frame)
Paddle with a stable, flanged, segmented design made of a Ø 102 mm or Ø 133 mm pipe
Large flange bearing for smooth running and high axial forces; stable, extendible ground support with handle
42 CroMo4 high-tempered connection shaft for high torques
Stable, extendible ground support with handle
Additional frame reinforcement for long mixers in the J series
Extraction or pressure vane Ø 600 mm (other vanes on request)
Folding frame mixer series B04
Slurry mixer series B04
Ideal for slalom systems, as well as for open and closed pits
High quality vane bearing seal
Bearing frame angle adjustment with hydraulic cylinder, alternatively with chain
 Paddle with a stable, flanged, segmented design made of a Ø 102 mm pipe
Large flange bearing for smooth running and high axial forces
42 CroMo4 high-tempered connection shaft for high torques
Extraction or pressure vane Ø 600 mm (other vanes on request)
With hydraulic paddle pivoting and automatic pawl on request.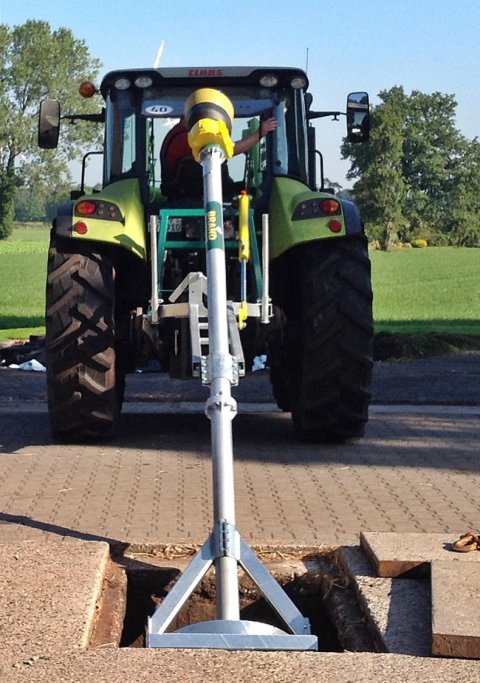 Folding frame mixer series B05
Ideal for slalom systems, as well as for open and closed pits
High quality vane bearing seal
With hydraulic cylinder for paddle pivoting as standard
Paddle with a stable, flanged, segmented design made of a Ø 133 mm pipe
Large flange bearing for smooth running and high axial forces
42 CroMo4 high-tempered connection shaft for high torques
Extraction or pressure vane up to Ø 700 mm (other vanes on request)
Vanes
The BRAND stirring vane is particularly effective thanks to its special shape.
It is available for pushing, extraction or as a neutral vane - standard vane size: 600 mm (other designs possible).
A folding vane is available for smaller openings (Ø 200 mm).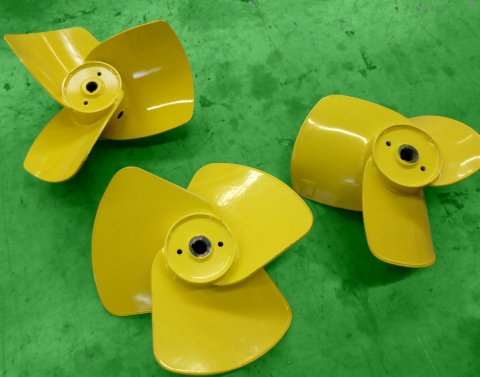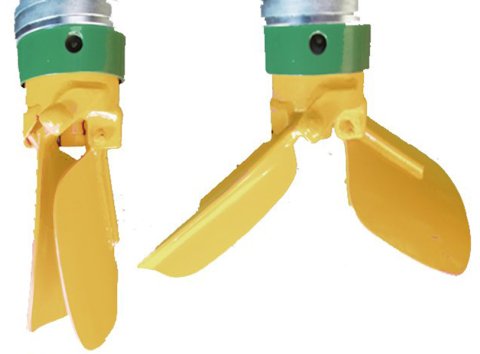 Slurry mixer accessories
Round agitator ring
Angular agitator ring
Vane supports
Wall-mounted frame
Wall bracket
Support bracket
Cardan shafts