BRAND submersible motor agitators
Power submersible jet B3TR-Jet 7.5 kW to 22 kW
The BRAND Power submersible jet – awarded the EuroTier silver medal (2010) – is an agitator with a simultaneous pump function and two agitator jet nozzles. A specially-shaped stirring vane pulls the slurry into the agitator housing and ejects it again through two rigid outlet openings. The agitator jets generated in this way form an angle of around 90° and generate thrust on the floating layer in two directions.
The first agitator jet is aimed at the tank wall, moves the floating layer in a rotary direction and releases it from the tank wall. The second agitator jet is aimed at the middle of the tank and cuts the floating layer up. Aligning the agitator nozzles towards the tank base enables sediment layers to also be stirred. The stirring time is reduced significantly and therefore, the energy requirements lowered. Latching the agitator nozzles into a special base on the tank base turns the agitator into a pump.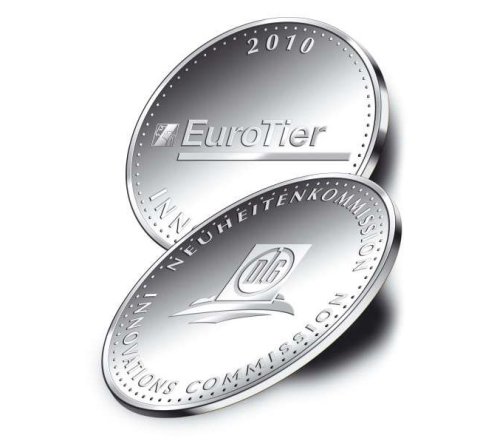 EuroTier silver medal 2010
The quality of the BRAND products is shown not least by awards such as the silver medal at EuroTier 2010 for the Power submersible jet.
B3TR submersible motor agitator for slalom system
Stable stainless steel slalom tunnel from 500 x 500 to 900 x 900 mm
Motor sizes: 7.5 kW-22 kW
Efficient stainless steel vanes, 2 or 3 blades
Robust planetary gear at a speed of 350 rpm
Aerodynamically efficient, slim motor design
With Z rails as a guide on the pit wall or for installation on existing drive-in rails
15 m cable
Thermal winding protection and deflection probe for seal monitoring
Special seal with separate oil bath filling and a particularly stable sealing ring
Galvanised slalom tunnel (optional)
B3TR submersible motor agitator on the guide pipe for pits and elevated tanks
Motor sizes: 7.5 kW-22 kW
Efficient stainless steel vanes, 2 or 3 blades
Robust planetary gear at a speed of 350 rpm
Aerodynamically efficient, slim motor design
For elevating tanks with davits for manual height adjustment
For pits with drive-on covers (chain height adjustment)
15 m cable
Thermal winding protection and deflection probe for seal monitoring
Special seal with separate oil bath filling and a particularly stable sealing ring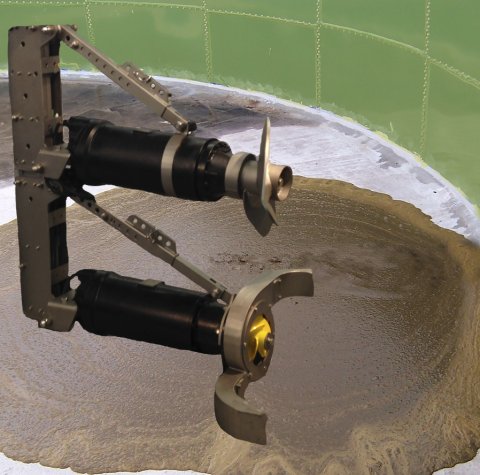 B3TR submersible motor agitator jet on the guide pipe for pits and elevated tanks
Stirring and pumping with one device
Motor sizes: 7.5 kW-22 kW
Use as a pump without retrofitting possible
Centrifugal agitating pump that is not sensitive to foreign objects
Stir up to a fill level of 50 cm
For elevating tanks with davits for manual height adjustment
For pits with drive-on covers (chain height adjustment)
Dual agitator jet
Direct drive with 1,450 rpm.
Thermal winding protection and deflection probe for seal monitoring
15 m cable
Floating ring seal
Specially-shaped stainless steel vane